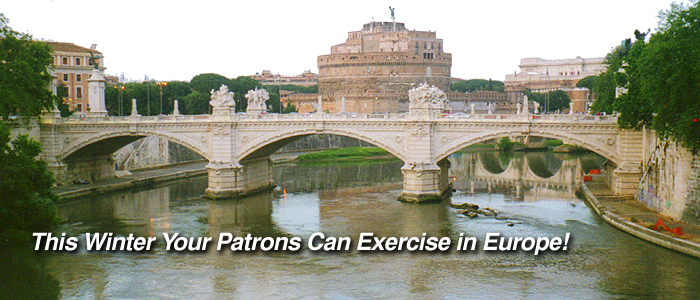 Customer Comments:
"Hi, I have purchased three of your DVDs and loved them. They have literally changed my treadmill workouts from a chore to a delight! I am in the process of buying three more, and will most likely be back for even more before long. I am interested in some of the new titles that I see you have in the works. Please put me in your "Wants new titles" folder. Thanks for such an innovative product. (and I bet you have fun making them, too!) Kate"
"Hello, Just wanted to let you know I'm still walking every day and it's because of your videos. I love every minute of my walk now. When I look down at the time I've spent walking and see 10 minutes have gone by I can't believe it. I feel like I've just started. I've increased my speed now and I really feel physically fit and I believe will be going a full hour pretty soon. I love the scenery. I love everything about the video's. And I am looking forward to purchasing the rest of your videos once they are done. Nancy"
"Hi! My husband and I just absolutely enjoyed your walking tour of Rome... neither of us can believe how quickly our workout flew by! It was almost as great as being there!! We've already purchased the rest of the Italy dvd's and would love to know if and when you plan to release any more...either of Italy or France. I would buy them right away!!! Thank you so much...keep traveling and making these wonderful dvd's. It really helps us to want to stay in shape! Arlene"
"Just a quick question. When will the new DVD's be released? I am really looking forward to purchasing several of the newer ones. I am exercising daily now and attribute my new energy to the beautiful views I watch as I use the treadmill. Once again – THANK YOU. Norma"
Your Patrons Will Thank You!
This unique set of 10 European Virtual Walk DVDs was specifically designed to help motivate your library's patrons in their quest to lose weight and stay fit and healthy. Using these Virtual Walk DVDs while exercising on treadmills, ellipticals, or Nordic Tracks, your patrons will be able to "take walks" in some of the most beautiful and historic locations in Europe. Rome, Venice, London, the Cotswolds, Amalfi - who wouldn't want to exercise by walking in Europe? To watch clips from the 10 DVDs, Click Here.
We've sold thousands of these Virtual Walk DVDs to satisfied customers here in the US and all over the world. Customers tell us over and over that these unique European Virtual Walk DVDs help motivate them to use their exercise equipment and make the time spent on treadmills or exercise bikes pass quickly! (Read some of our Customers' comments in the lower left column.)
For Libraries in the United States, VITA Digital Productions is offering a set of our 10 most popular Virtual Walk DVDs for a special price of only $99.95 with Free Priority Shipping to the USA. That's 33% off the price if purchased individually.
This Set consists of 10 of our most popular Virtual Walk DVDs: (Click on each title for a more detailed description of that DVD.)
And each of the 10 DVDs features a separate BONUS CHAPTER - 4 to 16 minutes in length - with a featurette on the locale of that DVD. To watch clips from the 10 DVDs, Click Here.
For ordering information, please click here.
Your Library's patrons will thank you!